Fall Lawn Maintenance
November 13, 1:00 pm

-

3:00 pm
Keeping your lawn healthy through the winter months in the northwest weather is not easy. Learn from this free class taught by Jim Card how to protect your lawn for the winter, keep the moss out and what fertilizers to use and when.
Class will be held at Main City Park. Meet at the Resource Center, the building closest to Springwater Trail.
INSTRUCTOR: JIM CARD, GARDEN DIRECTOR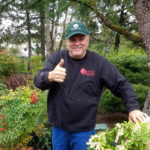 Jim Card spent 25 years serving the residential and commercial communities as a Landscape Services business owner. He knows all there is to understand about your lawn, plantings, soil, and sprinkler systems.
Lawn grass naturally goes dormant in the summer months , but with water and fertilizer, we nudge it into a green and growing presentation that will require varying degrees of attention. In early spring the lawn needs a balanced blend of fertilizer. Learn the blend Jim recommends along with mowing tips, and tips for checking the health of your lawn.