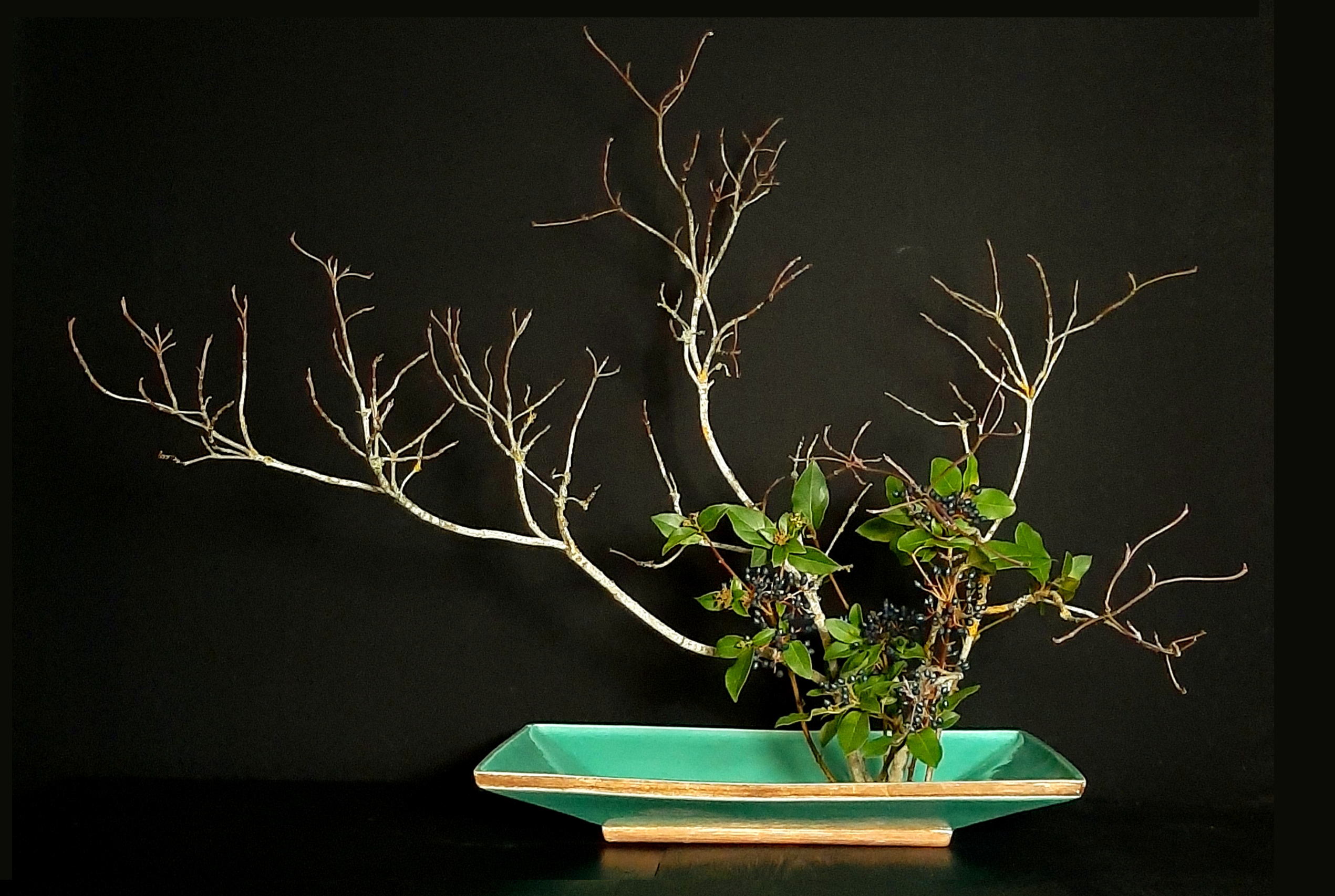 Ikebana for Every Season
Ikebana is one of the traditional Japanese art forms that uses plant and other materials and was established in the 15th century though the origin goes back farther.
Ikebana has three main components: the natural material (flowers, tree branches, leaves, or conifer needles), the vase, and the kendzan (a device for strengthening the stem and keeping it in the desired position). The basic aesthetic principle of Ikebana is refined simplicity, achieved by bringing out the natural beauty of the material, which determines the bouquet's asymmetrical composition and contrasting colors and textures.
In these workshops, Nana Bellerud will use plant material that resonates for the season. She will cover the basic concept, techniques, tools and equipment, and plant care. Participants will make 1 basic style and 1 freestyle with emphasis on the seasonal theme.
Cost – $55

(Includes plant material and instruction). Containers and kensan will be available to borrow for the class.

2022 Workshop Dates: All classes are on Tuesdays from 1-3pm

Tuesday, January 11

Tuesday, March 8

Tuesday, May 10

Saturday, July 23

Tuesday, September 6
Tuesday, November 8: Holiday with Ikebana

Please bring your own pruning shears. Class will be held in the Resource Center (building closest to Springwater Trail).
Instructor: Nana G. Bellerud
Nana G. Bellerud has been studying the Sogetsu School of Ikebana since 2005 and continues to be inspired and have new insights from its teachings. Nana demonstrates, exhibits, and teaches ikebana at a wide range of venues including the Portland Art Museum, Portland Japanese Garden, and Leach Botanical Garden. Through her demonstrations and workshops, she seeks to introduce others to the art of ikebana and to intrigue and inspire them. Beyond simply producing a beautiful work of art with flowers and natural objects, she shows her audience how ikebana explores artistic concepts such as balance, contrast, and negative space. Nana is currently serving as Branch Director of Sogetsu Portland and is a past President of Ikebana International Portland Chapter #47.
History of Sogetsu Ikebana

Sogetsu Ikebana is enjoyed throughout the world. The Sogetsu School stays within the family. Today it is run under the direction the 4th Iemoto Akane Teshigahara (Sofu's granddaughter). Under her style, while the relationships existing between the elements of line, mass, space and colour remain unchanged in Sogetsu principles, she has introduced greater emphasis upon floral material and colour. Akane's focus is on maintaining the relevance of ikebana with contemporary life.
Upcoming Classes & Workshops
December 4

-

December 7

December 12, 6:00 pm

-

7:15 pm

December 15, 1:00 pm

-

3:00 pm

December 17, 1:00 pm

-

3:00 pm

February 9, 2023, 6:00 pm

-

8:00 pm

February 11, 2023, 12:30 pm

-

1:30 pm

March 9, 2023, 6:00 pm

-

8:00 pm

March 11, 2023, 12:30 pm

-

1:30 pm

April 13, 2023, 6:00 pm

-

8:00 pm

April 15, 2023, 12:30 pm

-

1:30 pm

May 6, 2023, 9:00 am

-

3:00 pm