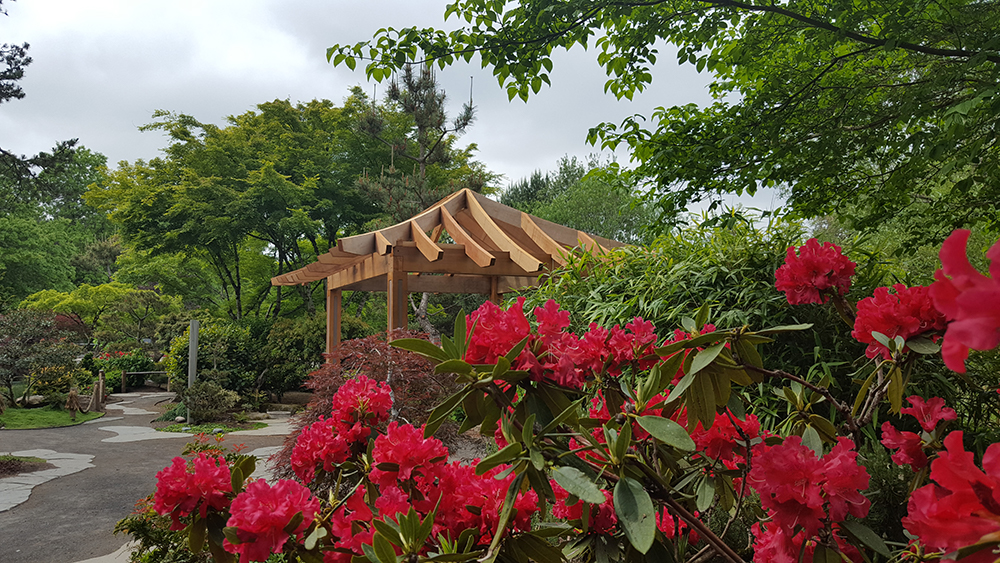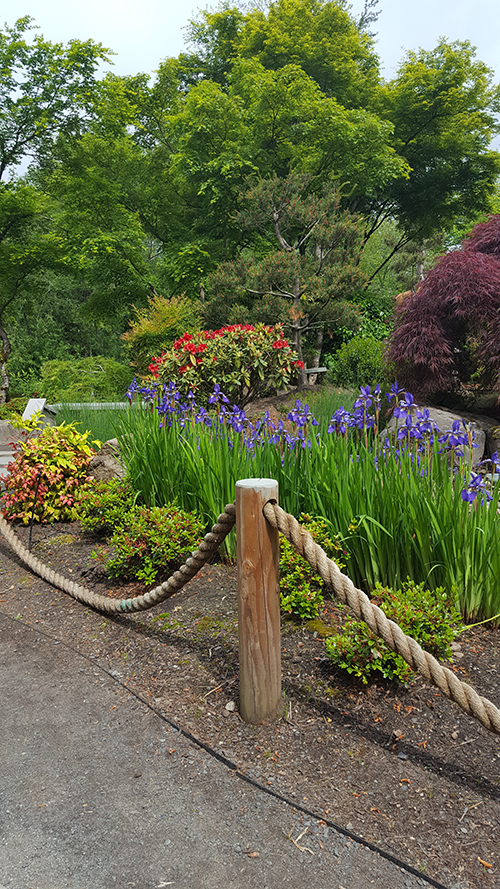 And here we have color all over the garden; colors that come from the bloom sets and color from the leaves that have been pushing for the last month or two. Rhododendrons and azaleas will take the lead for about two or three weeks and then will slow. Not all of the two types will bloom at the same time, they are staggered so we will see various fragments of color for about eight weeks. Also coming this month are the iris that are planted near the stream bed on east and west sections of the stream. Hosta is pushing at all locations of the garden with some blooming now and some being more dominant through the summer and remember the show we had by the water feature.
Maples (Acer) for sure are leafed out and will show all of the various colors of the leaves that have. Notice the spots of red from the lace leaf maples that draw your eye to certain areas as you walk through the garden — blended with the cool green contrasts being presented by the juncus that has been getting taller and bushier since late February.
The Andromeda (Pieris) blooms have passed and are replaced with the reds of the new growth popping out at the ends of the branches. We also have variegated versions of this plant with the leaf colors being combined with the usual green and now bright cream. Those plants with the reddest new leaf color are called "mountain fire".
Starting this month the more mature black Mondo grass will be showing an insignificant bloom that will show as a pale pink and/or white, look closely at the center of the plants.
Camellia blooms have shown blooms all year long including during the winter. The plants that we have where thinned over the past couple of years, changing the micro climate for the plants which may be a reason for the unusual bloom habit that seems to existing. We have pink and white (looking for an expert to tell us what the varieties might be) and have been in the garden since the beginning as pictures show us from the early seventies.
One of the biggest shows for volunteers at the garden has to do with the dogwood that sits just east of the Azumaya. As a backdrop, it cascades over the area and becomes a wonderful white cloud framing the new structure, the dogwood by itself is framed by the surrounding greens of the pines and the borrowed landscape of the watershed.
Pine candles are pushing hard by now with those colors being light brown to the pure white of the black pine "Thunderhead", now watch what happens.