Sakura in Japanese Culture
By Mary Dickson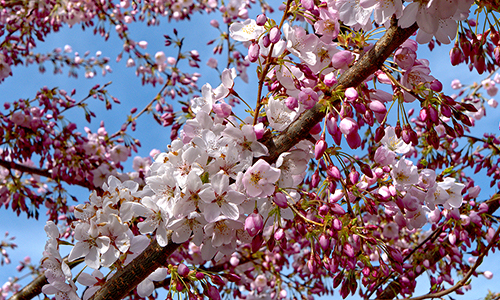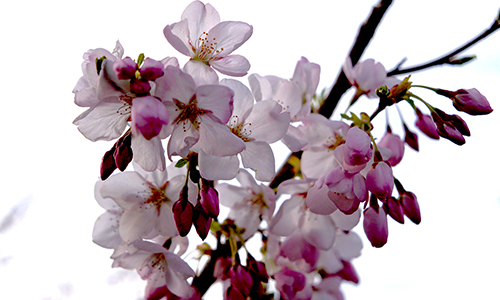 They blossom, and then
We gaze, and then the blooms
Scatter, and then…
(Onitsura, poet)
Beyond the beauty of sakura, the national flower of Japan, lies deep symbolism for the nation and its people.
One of my Japanese friends said, about the importance of the annual blooming of cherry trees, "the shortness of life means a lot in Japan. Everything is constantly changing is a major tenet of Buddhism. If you walk under the cherry trees with blossoms, you see the petals falling down one after another. I can't explain the feeling very well, but every time I walk under the cherry trees, I feel strongly that I need to memorize the beautiful scenery into my eyes…it only comes once a year, and I may be a little different next year because I hope I grow as a human every year."
For many centuries in Japanese culture, sakura has symbolized beauty and mortality. Samurai warriors personified this metaphor. Bushido, (the way of the warrior), is the strict moral code of respect, honor and discipline by which samurai lived and died.
While the short life of the sakura may represent death, the blooms of spring also bring renewal, and sakura also symbolizes rebirth, the cycle of life. For over 1,000 years, the ritual of hanami has been celebrated with picnics under the gorgeous pink blossoms. Nighttime viewing, called yozakura, is popular, especially among couples looking for a romantic atmosphere.
Since sakura blooms signal beginnings, school terms start in April in Japan. The Cherry Blossom Festival in Washington, DC, takes place around the Tidal Basin. Thousands of cherry trees, sent from Japan at the beginning of the twentieth century, enthrall visitors.
Enjoy the cherry trees in the Gresham Japanese Garden, the Portland Japanese Garden, and along the Willamette River in Portland to find hope and renewal this spring.
Under cherry-flowers,
None are utter strangers.
Koyayashi Issa, poet 1763-1828